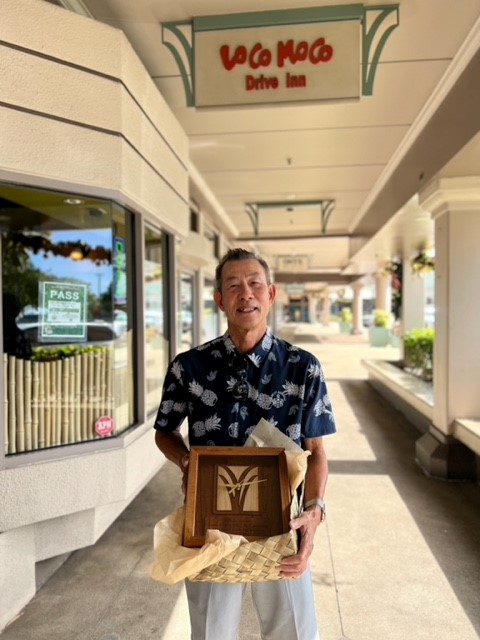 After 30 years of service to the Kapolei community as owner/operators of Loco Moco BBQ & Catering, Kapolei Shopping Center extends a 'mahalo and a hui hou' to Andrew Lee and his partnership group, Pacific Regal Investments, Inc., who transferred ownership of the popular food establishment on November 1st to Omar and Jane Dy, husband and wife business partners and Kapolei residents who also own the Baskin-Robbins franchise at the center.
The Dys have extended the Loco Moco lease for another five years, ensuring loyal customers can continue to enjoy their favorite plate lunches and party pans, breakfast specials and burgers for years to come.
Loco Moco and Baskin-Robbins both opened their Kapolei Shopping Center locations in 1993 and, along with Safeway and Longs, are among the original tenants still operating at the center, which celebrates its 30th anniversary this year.
"Kapolei Shopping Center is very grateful for Andrew Lee's decades of partnership as one of our original tenants, and for being an early believer in the city of Kapolei," said Kapolei Shopping Center General Manager David Marsh.
Mr. Lee was the recipient of the 1998 Kapolei Outstanding Achievement Award for Entrepreneurship and remains involved in Kapolei's business community as the developer of Kapolei Park Plaza, which is home to Burger King and U.S. Renal Care, across from Kapolei Shopping Center.
"We wish Mr. Lee the best in his continued endeavors and hope he enjoys more time with family and his
two granddaughters," Marsh said. "We also welcome the energy that Loco Moco's new owners bring to
our center."
---

Loco Moco BBQ & Catering has been serving the Kapolei community the best ono local-style food for over 30 years, from its famous, traditional Loco Moco with homemade hamburger patties, to its pastele stew special, slow-cooked every Friday.