This holiday season, enjoy these free activities, compliments of Kapolei Shopping Center.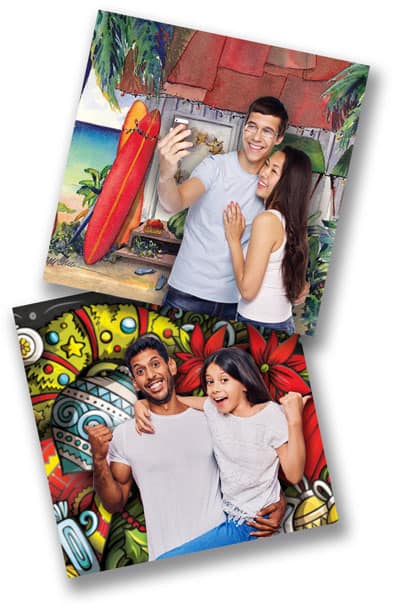 Snap a Memorable Holiday Photo – It could be a Winner!
Now through Jan. 2, 2022
POSE with one or both of the fun backdrops on Kapolei Shopping Center's big holiday photo cube displayed on the lawn adjacent to Safeway;
POST your photo on social media and
TAG #kapoleishoppingctr for a chance to win $100 in merchant gift cards.
Longs Drugs Kapolei can turn your photos into holiday cards, canvas prints and other photo gifts, too!
Top photo background: The original "Santa Shack" was painted by prominent Hawaii watercolor artist Peggy Chun.
Bottom photo background: This festive "doodle" backdrop is another fun option for holiday photos.
Learn more about "Santa Shack" and Peggy Chun
---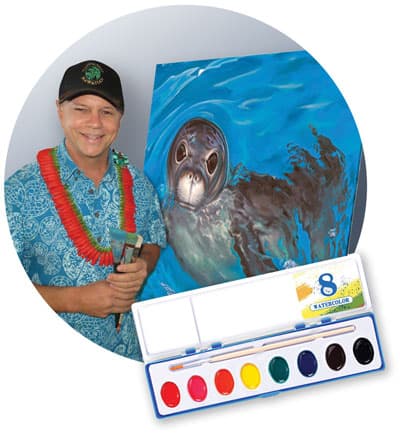 Create Colorful Memories!
Free Virtual Art Classes for Keiki
Keiki will have fun painting along with Hawaii wildlife artist and children's book author Patrick Ching during Kapolei Shopping Center's FREE virtual art classes. Three different classes will help kids create memorable masterpieces as keepsakes or holiday gifts.
Register to pick up a FREE ART KIT of a watercolor paint set with brush and paper canvas at one of the participating Kapolei Shopping Center merchants (while supply lasts), and receive a link to Patrick's three step-by-step painting classes for kids to use at any time, at their own pace.
Learn more about artist Patrick Ching
---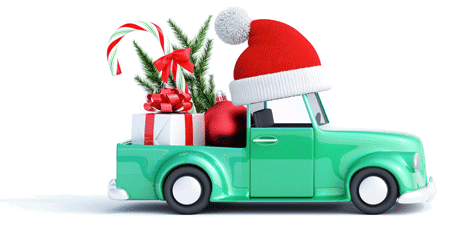 Share Holiday Joy
DRIVE-THRU FOOD & TOY DRIVE
Sat. Dec. 11 | 8AM – Noon | Kapolei Shopping Center Parking lot (next to Pizza Hut)
The holiday season should be a time of joy and giving, but many of our West Oahu neighbors will go without food on the table and gifts under the tree. To bring cheer to those in need, the Island Preparedness Group (IPG) will hold a drive-thru food and toy drive, with all proceeds and donations of non-perishable foods, cash and new, unwrapped toys going directly to the Hawaii Foodbank and Marine Toys for Tots Foundation on Oahu.

---
About Our Santa Shack Photo Backdrop, Watercolor by Peggy Chun
As a tribute to the late watercolor artist Peggy Chun, Kapolei Shopping Center created a backdrop for its annual Santa Saturday photos using the artist's delightful, holiday-themed "Santa Shack" painting. Since Kapolei Shopping Center is not able to host its Santa Saturday event this year, we have shared it on our holiday photo cube, for the community to enjoy.
Known in Hawaii for her beautiful and often whimsical artwork, Peggy completed the original painting in 1998 after spending a weekend at a friend's beach cottage. Despite being debilitated by ALS, or Lou Gehrig's Disease, Peggy continued to live a creative life, directing art projects and writing children's books. She lost her battle with ALS in 2008, but her artistic legacy lives on.
About Hawaii's Nature Artist, Patrick Ching
Patrick Ching is an internationally known wildlife artist, ornithological illustrator and author of children's books, including coloring books. He has spent a lifetime devoted to the preservation of Hawaii's native wildlife.
Patrick grew up exploring the valleys and shorelines of Hawaii, and during a month-long Outward Bound wilderness program, saw his first Hawaiian Hawk in the sky over Pololū Valley on the island of Hawaii.
"During that experience I decided to devote my life to educating people about Hawaii's native wildlife through my art."